BIO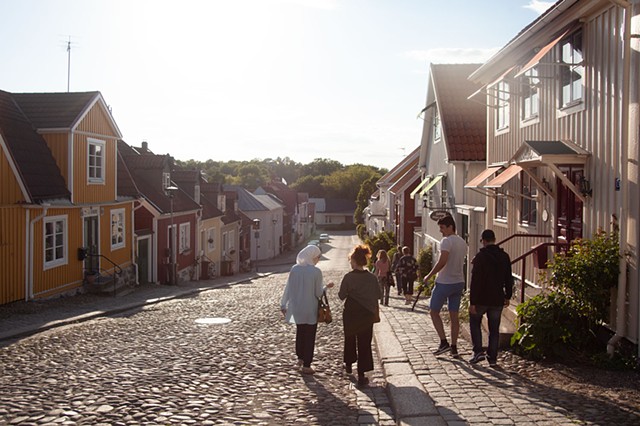 JULIE POITRAS SANTOS' site-specific practice includes video, installation, writing and public projects that include a walking component. The relationship between site, story and mobility fuels a range of research and production, including the relationship between natural histories and individual story; walking as a form of listening to site; and material agency in an age of climate change.
Poitras Santos' solo and collaborative work has been exhibited at the Göteborg International Biennial For Contemporary Art (GIBCA) Extended, Sweden; Karlskrona Konsthall, Sweden; Queens Museum, NY; Bates College Museum of Art; Center for Maine Contemporary Art; Institute for Contemporary Art at Maine College of Art; Urban Institute of Contemporary Art, Michigan; the Centre for Contemporary Culture in Barcelona, Spain; Reykjanesbaer Art Museum in Iceland; and at the Museum of Contemporary Art in Denver, among others. She has attended residencies and created performances and projects in the United States, Sweden, Spain, France, Germany, the Netherlands and Iceland, including residencies at the European Ceramic Work Center, in 's-Hertogenbosch, NL, Valparaiso in Mojacar, Spain and NES Artists Residency in Skagastrond, Iceland. Her work has received support from the Maine Arts Commission, Onion Foundation and the National Endowment for the Arts among others. With the support of a Kindling Fund Grant through the Warhol Regional Regranting Program in 2016 she initiated Platform Projects/Walks, a platform for curating walking artworks within local communities. Recent projects include co-curating with Catherine Besteman Making Migration Visible: Traces, Tracks & Pathways for the institute of Contemporary Art at Maine College of Art in 2018. Accompanied by a state-wide initiative involving over seventy partners, and a symposium, the exhibition was supported by numerous doors and by a grant from the National Endowment for the Arts.
Poitras Santos has taught in the Studio Arts MFA Program at Maine College of Art for over a decade, and previously taught sculpture at Bowdoin College, Rocky Mountain College of Art and Design, and the University of Colorado at Boulder. She lived in Barcelona, Spain for three years (2004-2007) and worked as the Artistic Director of the Art Residency program Can Serrat, in Montserrat National Park. She currently holds the position of Director of Exhibitions at the Institute of Contemporary Art at Maine College of Art, and lives in Portland, Maine.
Poitras Santos holds two MFAs, one in Visual Arts from the University of Colorado at Boulder, 2000, and a second in Poetry from the Stonecoast Creative Writing program, 2013. She received a BS from Tufts University in 1990. Additionally, she has trained in the martial art of Aikido since 1991.